Be daring with the latest cocktail trends, if the wine itself is full of flavour, imagine how it will taste if you mix it up with some imagination… Give it a try!
Fresh, wine-based cocktails that are low in alcohol and fun to enjoy with friends.
Slide Anything shortcode error: A valid ID has not been provided
Solaz Tempranillo Cabernet
(14 cl)
Blackberries
(3)
Lemon
(Half)
Crushed ice
Brockman´s Gin
(3 cl)
Blueberries
(8)
White sugar
(2.5 Dessertspoon)
Cooler Glass
Decoration
Stick with blackberries and blueberrie
Method
Shake&Layer. Muddle the Solaz red with the wild berries in one glass to mix the ingredients. Shake together the gin, sugar, lemon and crushed ice in a cocktail shaker, before serving in another glass. Finish off the cocktail by straining the Solaz very slowly into the glass to remove the fruit pulp. Decorate with a cocktail stick threaded with blackberries and blueberries.
Description
This cocktail combines the fruity grape notes of Solaz with the fresh, wild berry aromas of the gin. It is served in two layers so that the flavour evolves as you drink it.
Solaz Tempranillo Cabernet
(18 cl)
Seville orange marmalade
(2 Dessertspoons)
Panela
(2 Dessertspoons)
Mascarpone
(80 gm)
Zest of 1 orange
(1)
Basil
(1 bunch)
Ice cubes
Cooper
Glass
Decoration
Orange zest and basil flowers
Method
Blender. Blend together all the ingredients with 4 cubes of ice and serve it in a cup decorated with orange zest and basil flowers.
Description
This is a dessert rather than a glass of wine, perfect for ending a meal with Solaz. It brings out the sweeter notes in the wine, highlighting the chocolate flavours and creating a contrasting pairing with the rich texture of the bitter orange enrobed in mascarpone, ideal for enjoying after a meal.
Solaz red BIO
(12 cl)
"Arrope" red grape syrup
(3 Dessertspoons)
Juice of ¼ lemon
Smoked chipotle
(3 dashes)
Lemon thyme
(3 sprigs)
Cinnamon
(3 dashes)
Martini
Glass
Method
Shake&Double Strain. Put all the ingredients in the cocktail shaker with ice cubes and shake vigorously. Strain the contents into a glass. "Arrope" is a syrup made from Solaz grapes that have been reduced in the sun; you can make it by reducing down grape puree in a pan over a low heat and sweetening it with sugar.
Description
Tierra de Castilla is the combination of our organic Tempranillo grapes with the ingredients of this spiced cocktail, giving lightly spicy and refreshing notes with a taste of raisins on the finish from the arrope.
Solaz White
(15 cl)
Cava Abadía Montserrat
(6 cl)
Pineapple
(1 ring)
Coconut cream
(2 cl)
Crushed ice
Hurricane
Glass
Decoration
Pineapple leaf, grated coconut and a cherry
Method
Muddle&Shake. Add all the ingredients except the cava to the cocktail shaker and muddle the pineapple to extract all its flavour. Shake vigorously with ice cubes and serve by straining the cocktail into a glass with crushed ice. Top it off with cava and decorate with two pineapple leaves, grated coconut and a glacé cherry.
Description
Solinni is a fun version of the classic Bellini, in which we blend tropical fruits with Solaz white, pairing the fresh flavours of our white grapes and sparkling cava for a refreshing and glamorous effect.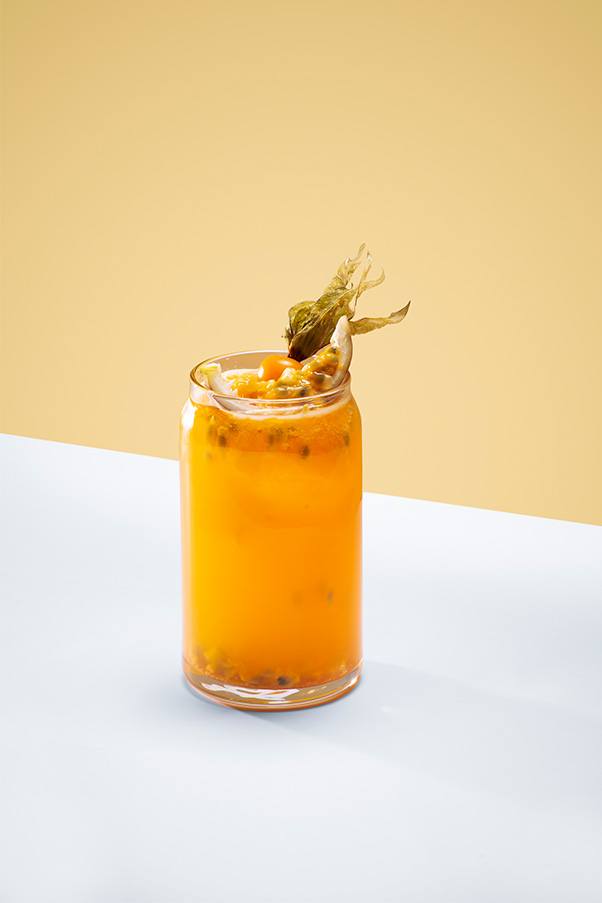 Solaz White
(18 cl)
Passion fruit
(1)
Ginebra Ampersand Pink
Cape gooseberries (physalis)
(4 uds)
White sugar
(2.5 Dessertspoons)
Iced Tea Glass
Decoration
Passion fruit and cape gooseberry
Method
Blender&Build. Blend Solaz white with the cape gooseberries and sugar, serving it in a glass with ice cubes. Add the passion fruit and gently stir to combine the flavours. Decorate with a wedge of passion fruit and a cape gooseberry.
Description
This cocktail blends the more acidic and fresh notes of the Solaz white grape with tropical flavours to create a harmonious partnership, finishing on touches of clementine.
Solaz Rosé
(14 cl)
Ampersand Pink Gin
(2 cl)
Raspberries
(5)
1/3 of a mango
(0.3)
Half a lime
(0.5)
White sugar
(2.5 Dessertspoons)
Old Fashioned Glass
Decoration
Raspberry and mango
Method
Muddle&Shake. Add Solaz Rosé to strawberry gin, raspberry and mango. Muddle all the ingredients together to extract all the fruit flavours and mix vigorously with ice cubes. Serve by straining the cocktail into a glass with ice cubes. Decorate with a raspberry and a pre-prepared mango disc.
Description
Bellisima takes its name from the delicate fragility of raspberry and the delicious taste of mango, combined with a strawberry gin that carries through the notes of Solaz rosé, a sophisticated and elegant blend.